---
WE MADE APPLE'S AIRTAG WEARABLE ON YOUR PET'S COLLAR
NEVER FACE THE UNCERTAINTY OF LOSS
🐾 Pawness™ AirPup Case safely clips on your pet's existing collar and brings peace of mind to you! Simply pop your AirTag into one of our protective cases and strap it on your pup's collar!
🐾 Whether you're worried about your pet running away from home, or if your dog likes to explore the backyard off-leash, with our AirPup Case you can finally attach Apple's AirTag to the collar of your furry friend and track them in style.
PREMIUM QUALITY FOR PREMIUM PAWS
🐾 Made out of high-quality liquid silicone, AirPup Case is durable and is jump-in-water-or-mud-and-dust resistant.
🐾 Our AirPup Cases come in 4 different colors and are made of high-quality silicone material to guard against any scratches.
ENGINEERED FOR PROTECTION
🐾 Innovative design that fits snugly over your AirTag and protects it against scratches. It's lightweight and durable.
🐾Never worry about it falling out. Your dog can continue his crazy plays and still be on your radar.
ULTRA-SECURE LOCK
🐾 A teeth structure and an additional twist-and-lock strap claps and locks the AirPup Case to the collar and keeps the AirTag safely inside.
SMART DESIGN AND FIT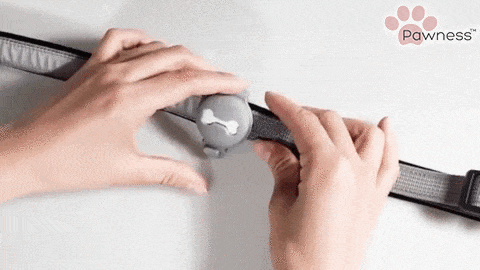 🐾 Thoughtfully designed. Our AirPup Case can be used with all collars up to 3.5 cm / 1.38 in. thick. Easily attach it to your dog's existing collar.
🐾 Keeps the powerful tracking device permanently attached to your dog's collar and ensures that locating your dog is easier than ever.
GET YOUR AIRPUP CASE NOW!
✈ We gladly provide Free Worldwide Shipping for our customers!
🕑 Order may take approximately up to 14 business days to get to you. Sometimes it can get faster, it also depends on the customs processing.