---
💕 NATURAL AND SAFE AS MOMMY'S LOVE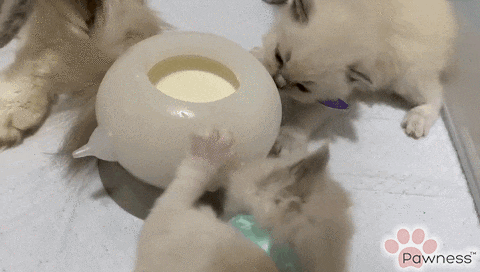 🥰 NURSE YOUR SWEET LITTLE TOTS EASILY
 Designed by veterinarians, the MilkyMom Bowl simulates pet mother's nipples and specific nipple holes are made for baby pets to suck milk slowly and safely.
 MilkyMom Bowl literally saved lives of more than 1000 pet babies considering that most of the time, pet moms are not able to produce enough milk to feed their whole litter.
UNIQUE MATERIAL FOR KITTENS AND PUPS
 Made with Patented technology of the extremely Soft Classified food grade silicone. Safe for pet babies, odorless, BPA-free and FDA approved.
 Heat resistant and long-lasting material that doesn't get damaged when cleaned with boiling water and last longer than other plastic nursing bottles.
 Firm and flexible feeding nipples to give your furry little ones the most natural nursing experience.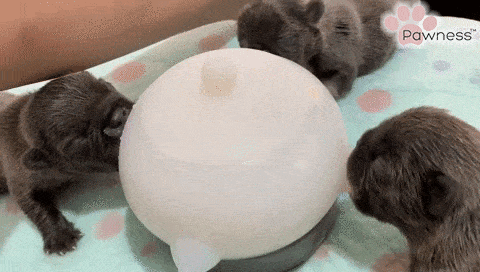 🥰 SAVE YOUR TIME AND LET THEIR MOM TO HAVE A REST

 MilkyMom Bowl can significantly reduce the hours you'd have spent nursing, now you can feed a whole litter in less than 30 minutes!
 It's priceless seeing Your babies not crying for Hours because they're starving, and Mom can finally take a break and rest too!
🤗 HOW IT WORKS? NO WORDS, JUST WATCH!

We Are Proud To Donate A Portion of Our Profits To Some 
Reputable

 Dog Rescues Across the US 💖🇺🇸
- Can I use it to nurse kittens/puppies from 1 week old?
- Yes! No matter how big the litter of pups or kittens gets, this innovative feeding solution can handle it. MilkyMom Bowl™ is an ingenious invention for both new and seasoned pet owners. It may seem impossible to feed up to four hungry babies at once, but this just makes it a walk in the park.
- Is it safe for the pet babies?
- Absolutely, yes! It's made of 100% food-grade silicone, BPA Free and FDA approved! The design is so soft it feels like the pup's mom's body, has been tested on over 1000 puppies and kittens, and they loved it!
- How to use it?

1. Clean with boiling water for 2 minutes before use.
2. Clamp the four nipples with a clip, put a towel on the bottom, and then pour the milk.
3. Put the baby pet next to the
MilkyMom Bowl™, open the clip.
4. Assist pet to it's nipple, and watch it start doing its miracle, they are gonna simply suck and go to sleep! You'll also get a detailed guide in your box
Plus, it's easy-to-clean and dishwasher safe!
Package includes:
1 x MilkyMom Bowl
4 x Clips (To avoid milk spills)
1 x Bowl Cover
1 x User Manual
1 x Wrap Box
Sizes: S (5 oz/150 ml), L (12 oz/350 ml)
Material: 100% Food grade silicone
✈ We gladly provide Free Worldwide Shipping for our customers!
🕑 Order may take approximately up to 14 business days to get to you. Sometimes it can get faster, it also depends on the customs processing.